Drilling & Completions Fluid Services
As a full-service drilling fluids company, DeepWell Energy Services provides drilling and completions fluids to the oil and gas industry. Whether it is a liquid, sack or dry bulk product, we can deliver products and materials to and from customer job sites in Mississippi, Alabama, Florida, Louisiana, Arkansas and Texas.
DeepWell provides trained, competent and professional field service representatives with multiple years of industry experience. In all instances, DeepWell's representatives perform their various duties in a safe, professional manner that reflects the positive reputation of the company; they assist the customer's drilling team in every way possible. We expect full safety participation with zero health, safety and environment incidents on all jobs.
With our state-of-the-art real-time fleet tracking capability and satellite communication technology, you can be confident of where your team and materials are and that your delivery will arrive on time.
The crew at DeepWell are specialists in long-distance heavy haul transportation, especially 100,000-plus pound loads. Our experienced personnel are fully trained and compliant in related OSHA and DOT certification and exceed minimum standards. We have all the various vehicles and equipment necessary to perform heavy haul transportation anywhere in the United States.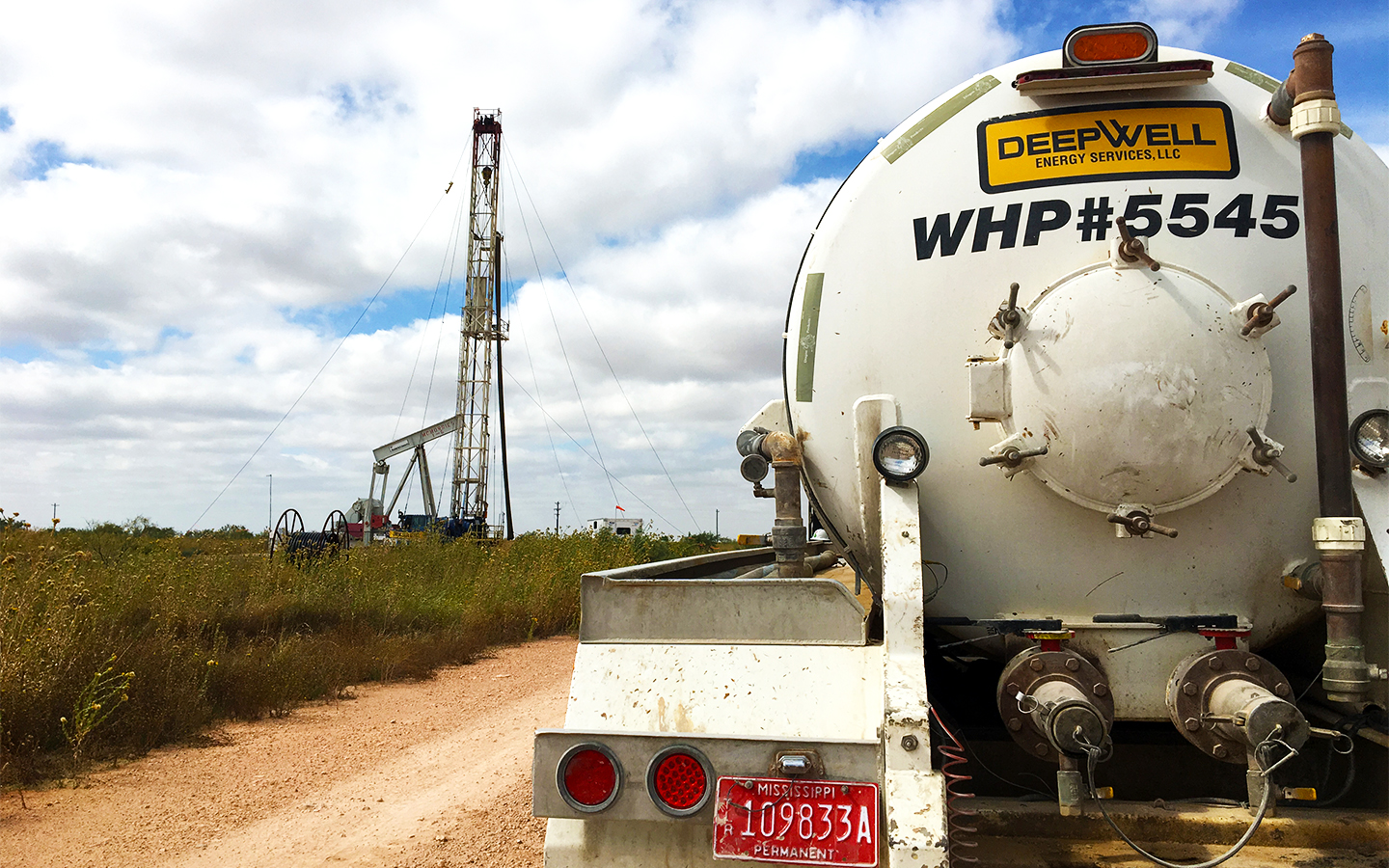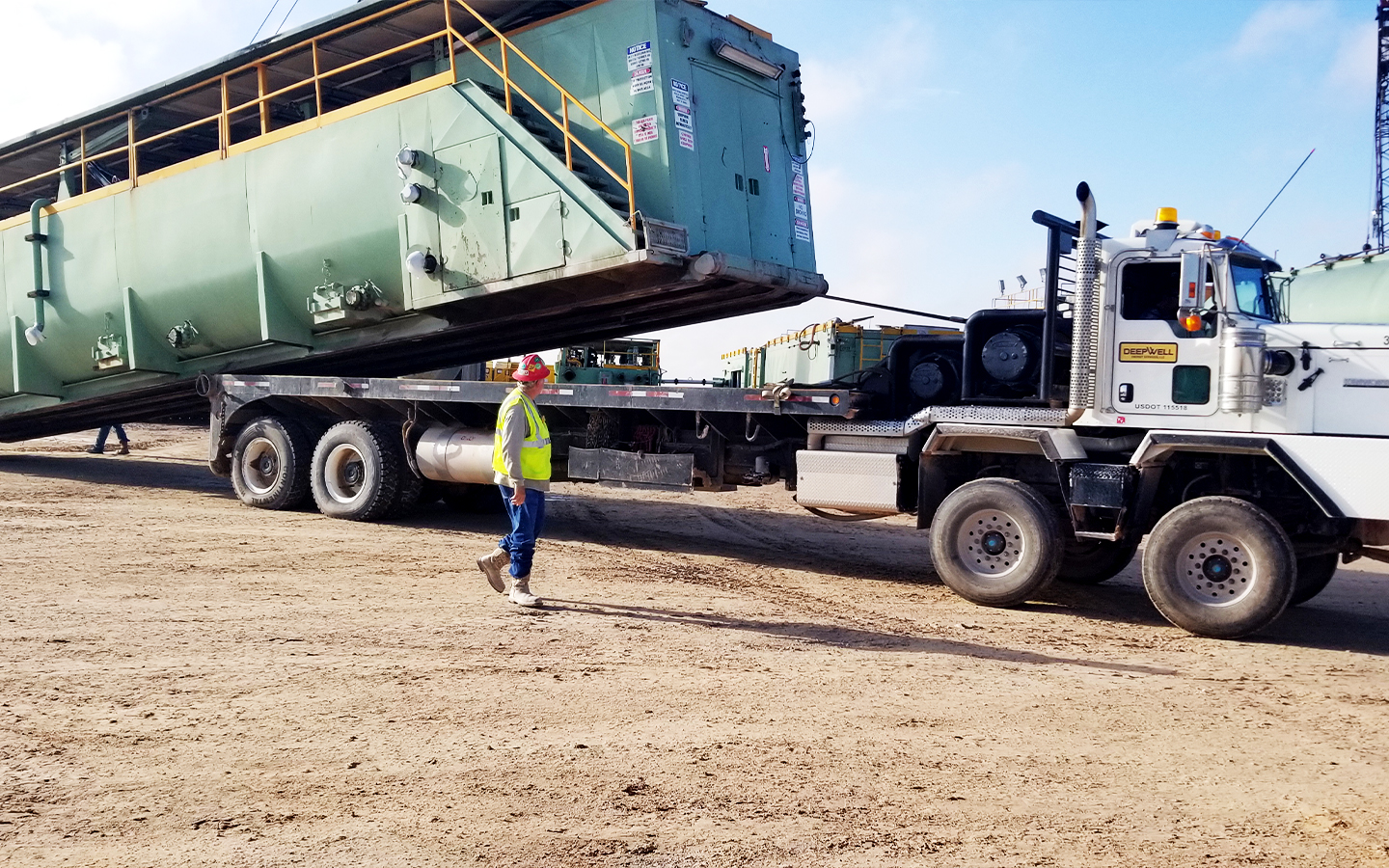 DeepWell's Logistics Division provides our customers with options beyond our fleet capacity. By working with our highly-qualified carrier network comprised of both large and small fleets, we can provide flexible service options that fit specific needs. When capacity is an issue, our logistics division offers cost-effective solutions providing the best value for our customers. 
Oil Field Construction Services
At DeepWell Energy Services, we are committed to providing our customers with the best equipment and crews for all their construction needs in the oil, gas and utilities industries.
Our specialists in oil field and energy construction will transform your engineering plan into a durable, well-built reality with a full range of equipment, as well as a solid inventory of hardwood mats.
We have all the capabilities to build your site from the ground up. With trained, experienced crews and a complete array of construction and heavy equipment, we can perform full-site prep for rock, board or fly ash locations, including constructing and permanentizing drilling pads with board or cement stabilization. We are also skilled and experienced in subsidiary construction projects like roadwork, large capacity frac pits and in-plant construction.
Pipeline & Production Services
Regardless of your pipeline and production needs, DeepWell has the resources to start at the wellhead and continue to the sale point. We have the experienced supervision and crews to set and hook up all your production and pipeline needs. 
We offer complete contract services that help you get the most out of your oil field production. Our trained and experienced workforce provides around-the-clock roustabout services, labor crews and well hook-ups. We are available 24/7 for well maintenance and spill cleanup. 
We know you have a lot invested in your drilling operation, so when it is time to move your rig—across the field or across the country—DeepWell has the equipment and manpower to get the job done efficiently and safely.
From initial planning and breakdown to loading, transport and reset, we can move any size land rig anywhere in the continental United States. With a huge selection of equipment resources—including 80 cranes, lowboys, flatbed floats, and tilt utility trailers, we also have the experienced crews trained to OSHA 10 and PEC SafeLandUSA standards to handle your next rig-moving project.
You can always count on us to perform rig moving operations with the highest level of care and safety in mind and an eye on time sensitivity. We have what it takes to keep you on the move in your fast-paced industry.
DeepWell Energy Services offers a complete line of vacuum and pump truck services. Our facilities are staffed 24/7 in order to accommodate all your fluid needs, including the following: 
Fresh Water
Flowback
Battery Service
Lease Hauls
Drilling Mud (Hazmat)
High-Pressure Pump Trucks
Vacuum Truck Service
Cleaning Service
Pipe Cleaning / Drifting / Tally
Frac Tank Rental
Pump Rental